5G Rescue use case among best Spanish AI initiatives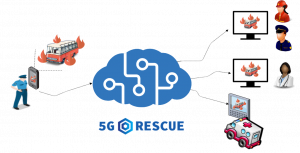 The 5G Rescue use case, which is based on research done in INSPIRE-5Gplus, has been selected as one of the ten winning proposals in the contest for the "Best Artificial Intelligence initiatives with social and ethical impact in Spain". The contest is supported by Telefónica, OdiseIA, and the "Compromiso Empresarial" magazine.
The 5G Rescue use case was presented by INSPIRE-5Gplus partner University of Murcia. The initiative driving the use case aims to make the full potential of 5G technology and Artificial Intelligence available to the security and emergency services, such as fire brigades, health services, and others.
The technical objective of the 5G Rescue use case is to develop and integrate a series of intelligent network management mechanisms that allow reconfiguring the 5G infrastructure in real time, in order to enable a high-definition, low-latency and secured video streaming service. This service is intended for both the command center and hospitals involved in the resolution of an emergency event as well as the vehicles that approach the emergency zone.
The winners of the contest will be presented at a one-hour online event on 2nd December, 6:00 pm CET.