5G Security Workshop at 5G World Forum 2020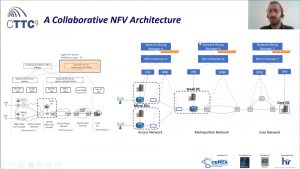 At the virtual IEEE 5G World Forum 2020, INSPIRE-5Gplus co-organised and sponsored a workshop on "5G Security: Current Trends, Challenges and New Enablers" (WS1) on 10th September. The workshop aimed at providing a forum for industry and academia to disseminate new results on 5G security. Researchers from Europe and America presented nine high-quality papers on a wide range of 5G security topics.
INSPIRE-5Gplus was represented in the workshop by two of the opening speakers, Antonio Fernando Skarmeta Gomez from the University of Murcia and Pascal Bisson from Thales, as well as by a paper written by researchers from the Centre Tecnològic de Telecomunicacions de Catalunya (CTTC).
The INSPIRE-5Gplus paper has the title "Peer-to-Peer Blockchain-based NFV Service Platform for End-to-End Network Slice Orchestration Across Multiple NFVI Domains". Authors of the paper are P. Alemany, R. Vilalta, R. Muñoz, R. Casellas, and R. Martínez. The paper was presented online by Pol Alemany from CTTC. It describes a collaborative architecture to manage network-slice resources across a multi-domain network using blockchain as the tool enabling the exchange of information.
The paper explains a possible way of working, in which network-slice resource owners from different domains can collaborate to create end-to-end (E2E) network slices through a blockchain based on Ethereum. In addition to the architecture, the paper presents the workflow of a simple network slicing deployment use case and initial results for the effects of blockchain on the total setup time for deploying an E2E network slice.
Further information
Programme of IEEE 5G World Forum
If you have a 5G World Forum registration, you can access and watch the video recording of the 5G Security Workshop (WS1) – it is available for one month after the event, i.e. until 10 October 2020