IEEE VTC2020-Fall
18 November 2020

-

17 December 2020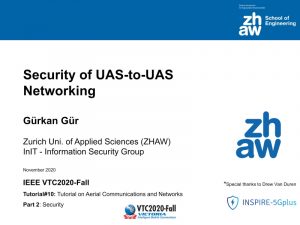 Dr. Gürkan Gür from INSPIRE-5Gplus partner Zurich University of Applied Sciences (ZHAW) will contribute to the "Tutorial on Aerial Communications and Networks" at the IEEE VTC2020-Fall from 18 November to 16 December 2020. It will be a joint virtual tutorial by Kamesh Namuduri, University of North Texas, USA, Serge Chaumette, Université de Bordeaux, France, Ravikumar Pragada, InterDigital, Inc., USA, Helka-Liina Määttänen, Ericsson, Finland, and Gürkan Gür, ZHAW, Switzerland.
The tutorial is intended to provide an overview of the state of art in aerial communications and networking. It covers topics such as security, vehicle-to-vehicle communications and ad hoc networking, along with experiences gained from flight-tests, experimental test-beds and simulations. While the focus is primarily on standardization in IEEE 1920.1 Work Group, novel ideas towards future research such as swarm autonomy, emerging security challenges and mesh networking for UASs will also be discussed.
Dr. Gür will present the segment on the security of aerial communications and networking.
Further information