White Paper on Intelligent Security Architecture for 5G and Beyond Networks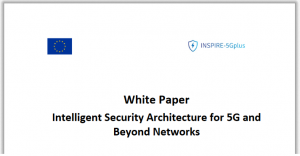 INSPIRE-5Gplus has published a White Paper on "Intelligent Security Architecture for 5G and Beyond Networks" (November 2020).
The White Paper introduces the overall INSPIRE-5Gplus framework's High-Level Architecture, its main functional blocks and their role in enabling intelligent closed-loop security operations. To illustrate how the INSPIRE-5Gplus framework can be applied as a zero-touch security management solution for 5G systems, the White Paper presents a representative set of advanced security use cases.
The presented use cases cover different advanced security problems, including: (i) trustworthy composition of network slices using Blockchains (DLT) and secure deployment of E2E network slices in compliance with agreed SSLAs for automotive verticals; (ii) detection of network attacks over encrypted traffic in Service-Based Architectures; (iii) enforcement of E2E encryption policies while leveraging TEE to enable trustworthy execution of encryption-decryption operations; (iv) reactive and proactive protection of E2E network slices using, respectively, anomaly detection and Moving Target Defense mechanisms.
White Paper "Intelligent Security Architecture for 5G and Beyond Networks" (DOI: 10.5281/zenodo.4288658)